In keeping with our mission to be a partner with our customers, US Medical Systems offers several different avenues of continuing education.
In-Services

USMS offers over 8 different education in-services designed for the Operating Room, Sterile Processing, Endoscopy, and Medical Equipment

Self Study CEU's

USMS offers a Self Study CD-Rom with 14+ hours of Continuing Education through CBSPD and IAHCSMM

Scholarship Program

USMS offers a scholarship to healthcare employees who plan on pursuing Continuing Education Credits or advanced certification in their respected field.
Integrated Service Reporting Tools
USMS has created a collection of reports that encompasses a landscape of all your equipment. Our tracking system monitors repair history, frequency of service and a summary of all costs associated with each repair.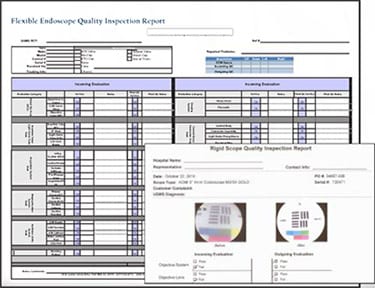 Quality Inspection Reports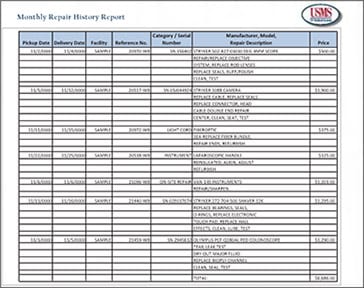 Monthly Repair History Report
Advancing Technology: Live Interactive Service Portal
When your instruments, carts or equipment are picked up, they are entered into our on-line portal. This portal was devised by USMS to give each of our clients:
Real Time updates
On-line pricing
Tracking / Reporting
Whether you're in charge of many facilities, multiple departments or have several people who request repair services on behalf of your company: our system puts you in complete control.
Equipment Service Process
Convenient Pick-Up / Receiving
Items are logged into our system
Inspection I – Evaluation/Assessment of damage
System Update – Our system is updated with the diagnosis, cost and completions date.
Repair / Maintenance – Track the service progress through our on-line service Portal
Technical Inspection Check II – Inspection of all required repairs by a qualified technician
Outgoing – Final inspection report is completed. Delivery/tracking information is entered into the system and service record is completed and closed.
Annual Review Report
The Annual Review Report allows USMS to provide you with one of the most comprehensive accounting and budgeting tools available. This report will provide you with:
Equipment cost per procedure
Budgeting Tool
Management tool of your actual expense per category
USMS has committed itself and staff to continually develop and review systems and technology. In that process we are proud to introduce the Endo-View System. This is a system created and developed for use as a fiber optic video system that allows us to examine the biopsy channel of flexible endoscopic instruments. Allowing us to identify problems hidden inside flexible scopes before they require major repairs.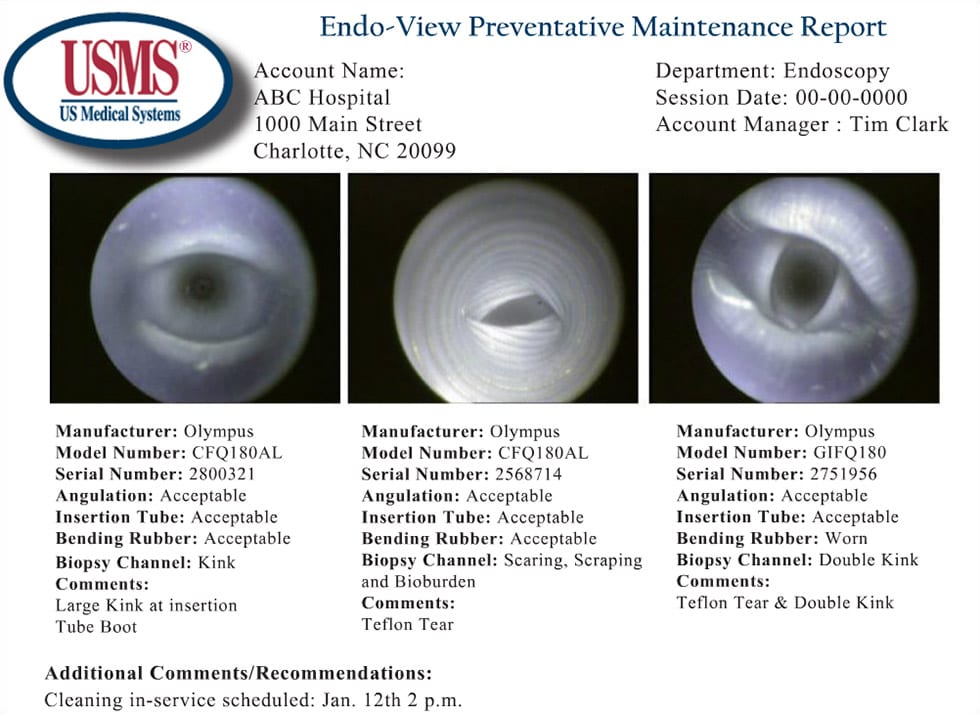 The Endo-View System uses cameras and fiber optic technology combined with our digital capture software program. The software captures digital images from the working channel and gives end users firsthand evidence of channel damage. In addition, it reviews the cleaning process and highlights any other potential problems.
All information is then recorded in hard copy form for your hospital's use, and archived in our system for future needs.
EndoBenchXTB™ is an endoscope image quality test system for scope manufacturing and repair QC testing, suitable for high production work environments. The instrument consists of a custom designed opto-mechanical system and software to evaluate and report the parameters that are central to a clinical environment. Adapters, couplers and fixtures are included for measuring rigid, flexible and video endoscopes.
The benefits to utilizing the EndoBench are:
Parameter Verification

Specifications are Established by Collecting Data from New OEM Scopes
Our Database Currently has Over 250 New OEM Scope Specifications

Removes Human Error Element from QC Process
Helps Standardize Communication between OEM, 3rd Party, and Hospital
Measures Both Rigid and Flexible Endoscopes
<iframe width="560" height="315" src="https://www.youtube.com/embed/LRDIKmLMX3o?rel=0&showinfo=0&wmode=opaque" frameborder="0" allowfullscreen></iframe>